My other two thirds had just gotten an internship in the Sacramento County area, so I figured I would make myself useful and while I was there with them, I wanted to continue to work on my major, Environmental Science. I had taken up a class at Sacramento State, and one of the assignments was to do a service project to help the community. Knowing my passion for fishing, I wanted to do something to help keep the waterways clean. The Sacramento River leads to the Bay Area, and I wanted to make sure there would be less trash entering that river as best I could. For my Volunteer Project for my Environmental Science class, I decided to participate in the weekly Land Park Cleanup, taking place in William Land Park. On certain Saturdays at 9am, community members of Land Park volunteer their time to help "tidy up" William Land Park for 3 hours, or however much time each person can volunteer. For the kindheartedness of the volunteers, the hosts of the event provide a breakfast in the morning, then sandwiches in the afternoon to the volunteers.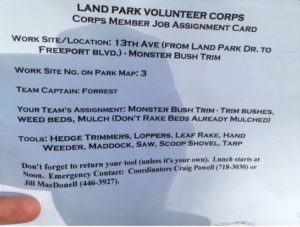 When I arrived at the park, I was greeted with "Good morning's" and "How are you's"from nearly every person I made eye contact with. Everybody there seemed friendly and happy to be volunteering in their community. There was a sign in sheet of many recurring volunteers and another for first time volunteers. This was my first time so I signed that one then went and had a complimentary doughnut on one of the tables stationed with donuts, pastries, coffee,granola bars, and other snacks to eat. When it was time to start volunteering, the leader of the cleanup, Craig Powell gathered everyone together to tell us about what we were going to do that day. We each were given two sheets of paper (pictured on following pages) that told us exactly what our responsibility was going to be. The goal for the day was to participate together in yard work and make all the plants look neat. I was given area 3, with my group leader being Forrest. Perfect name for what his passion was, I wonder if his parent's name choice led him down to an environmental conscience mindset.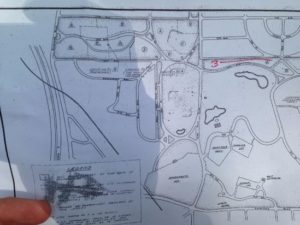 Once we knew what our jobs were, we got together with our group and picked up our tools to be able to perform the yard work. I grabbed a tarp and a pitchfork because I decided I would like to put the mulch in the beds of the bushes and the trees. After we got our tools we walked as a group talking to one another about our lives. Once we got to our area I began to take the piles of mulch with the pitchfork and place it on to the tarp with a few other volunteers. Once we decided there was enough mulch on the tarp we would pick up the tarp and dump it into the beds. From there, other volunteers would spread out the mulch until it was about four inches deep. During this time, one of the leading volunteers needed some extra help transporting some more tools to the station and since it was a long walk, he told me to get into his vehicle where we drove back to the beginning area to get some more tools. Along the way we got to talk and I found out he was a veteran from the Vietnam War. He said he tries to participate in every Land Park cleanup because he says when his relatives visit, he wants them to think he lives in a beautiful town.